Self-guided Tbilisi walking tour – Solopassport
For free walking tours in Europe, visit Freetours website. The walking tours listed on the website are free and are based on tips. They are great way to discover a city and meet the locals.
PIN for later reference
This article may contain affiliate links. For full information, please see our affiliate disclaimer here.
Self-guided Tbilisi walking tour
Walk statistics
Starting point: Metekhi Cathedral.
Finishing point: Abanotubani.
Total distance: 4.2 kilometres.
Time taken: 1 hour.
Grade: Easy. Mostly flat except for the path to Narikala Fortress.
Itinerary and things to see on the walk
No photographs are allowed inside the orthodox churches.
Georgians are very religious people, so please respect and maintain decorum during your visit at religious places.
Dress code to enter churches – There is a dress code for women and the skirts are kept just outside the church which have to be worn by women. Note women have to cover their heads either by scarfs or caps.
There are no entrance fee for all the landmarks unless specified separately.
To travel in public transport, you need to have Metromoney card that can be purchased at any of the ticketing offices for 2 Georgian Lira.
Part 1: Metekhi Cathedral to Shardeni street
Distance: 2.3 kilometres.
Time taken: 30 minutes.
Path: Metekhi Cathedral – Monument of King Vakhtang Gorgasali – Europe Square – Bridge of Peace – Rezo Gabriadze Marionette Theatre – Anchiskhati Basilica – Patriarchate of Georgia – Sioni Cathedral – Tamada statue – Shardeni street.
Metekhi Cathedral
Built in the 13th century under the reign of King Demetrius II of Georgia, Metekhi church is an orthodox Christian church on the banks of River Kura. The church is dedicated to Virgin Mary and is one of the oldest churches in Tbilisi.
Church timings: 10 AM to 4 PM everyday.
Nearest metro station: Avlabari metro station.
Nearest bus stop: Europe square.
You start your Tbilisi walking tour at Metekhi cathedral.
Monument of King Vakhtang Gorgasali
Just opposite to Metekhi cathedral is the Monument of King Vakhtang Gorgasali, the founder of Tbilisi city. Known as a fearless leader and an outstanding reformer, King Vakhtang Gorgasali reigned for 45 years and the name Gorgasali, meaning wolf head, was given to him by the Persians.
According to legend, King Vakhtang Gorgasali was once hunting in the region which is now Tbilsi. On his hunting trips, he always took his falcon with him so it could fetch the kill. After he hunted the pheasant, the falcon went to fetch the bird. Tbilisi region is famous for sulphur water. Unfortunately, both the falcon and pheasant fell into the hot sulphur water and died. And hence the name Tbilisi was given to the city where Tbilisi literally translates to warm water.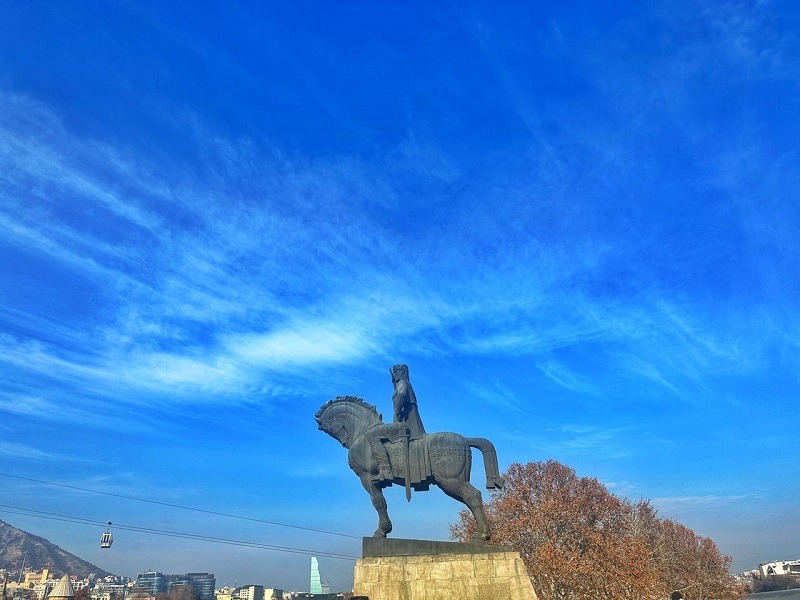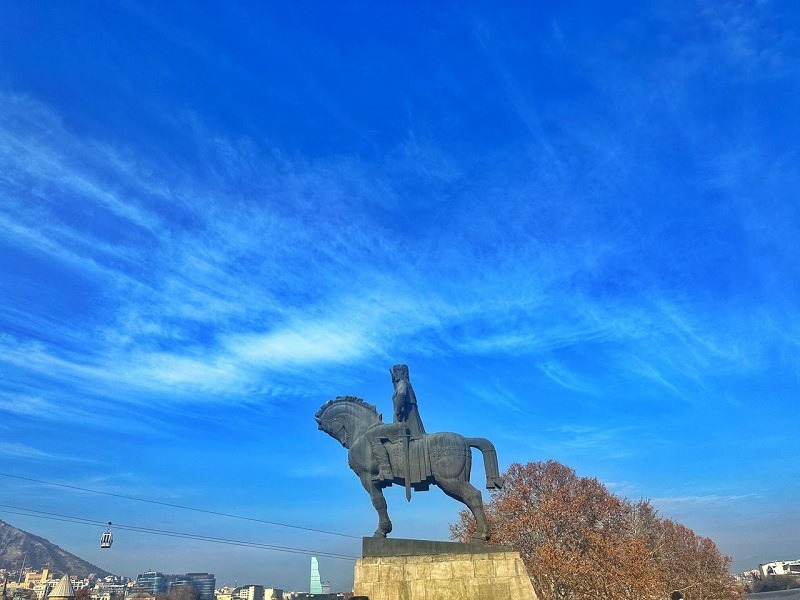 Europe Square
Known for its beautiful buildings and restaurants, Europe Square is a historical area within the city and close to the old town.
Bridge of Peace
Opened in 2010, the Bridge of Peace is a pedestrian bridge connecting Rike park to the old town of Tbilisi. Designed by the Italian arhcitect Michele De Lucchi, the bridge stretches 150 metres on River Kura.
Rezo Gabriadze Marionette theatre
Opened in 1981, Rezo Gabriadze Marionette theatre is the first Georgian puppet theatre in Tbilisi. The theatre is named after Georgian's theatre and film director Revaz Rezo Gabriadze.
Theatre timings: 11 AM to 11 PM everyday.
There are many puppet shows that run at the theatre and you pay for watching the program/show. The cost of the ticket depends on the program you wish to watch.
Anchiskhati Basilica
Built in the 6th century by King Dachi of Iberia, the Anchiskhati Basilica of St Mary is the oldest surviving church of Tbilisi. The basilica is a three span basilica, and was originally dedicated to Virgin Mary. In 1675, the church was then renamed to Anchiskhati, the icon of Ancha.
Church timings: 10 AM to 4 PM everyday.
Patriarchate of Georgia
Dating back to the 5th century, the Patriarchate of Georgia is a Georgian Orthodox Christian church. Located in the eastern side of Ereke II square, the Patriarchate of Georgia is built in the place of King Rostom's palace.
Church timings: 10 AM to 4 PM everyday.
Sioni Cathedral
Even though the initial Sioni Cathedral was built in the 6th century, the current church is based on the 13th century version. Sioni Cathedral is another Georgian Orthodox Christian cathedral that bears the name of Mount Zion at Jerusalem.
Church timings: 8 AM to 9 PM everyday.
Tamada statue
Tamada statue is a statue of a man holding a horn, indicating a toast at Georgian feasts or celebrations. Located on Bambis Rigi street, Tamada statue is a bronze statue and is a replica of another bronze statue recovered from an excavation in Western Georgian town Vani.
According to Georgian culture and custom, the Georgians drink their wine in a horn. And I was informed by the locals that after toasting, the Georgian men drink bottoms up irrespective of how big those horns are. They do not keep their drink down after the toast.
Shardeni street
Shardeni street is a busy street with lots of cafes and restaurants, and is famous for its night life. The street is named after a French explorer Jan Chardin who visited Tbilisi in 1863.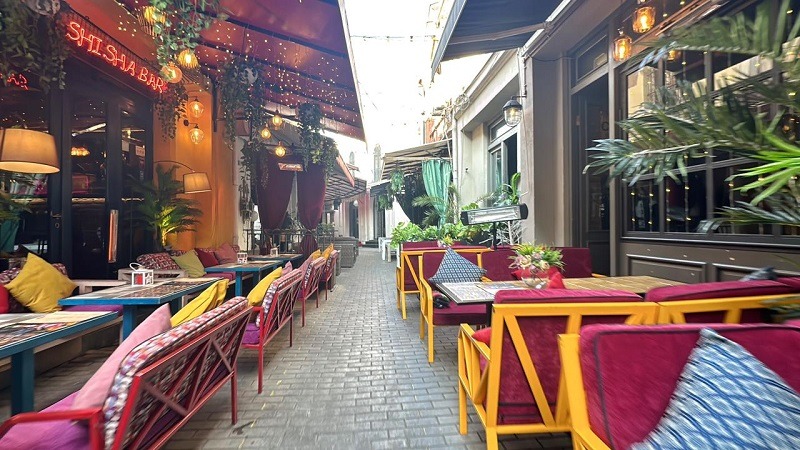 Part 2: Shardeni Street to Abanotubani
Distance: 1.9 kilometres.
Time taken: 30 minutes.
Path: Shardeni street – Mother of Georgia – Narikala Fortress – Juma Mosque – Leghvtakhevi waterfall – Chreli Abano Spa – Abanotubani.
Mother of Georgia
Located on the top of Sololaki hill, the Mother of Georgia was erected in 1958 to celebrate Tbilisi's 1500th anniversary. Also known as Kartlis Deda, the Mother of Georgia symbolises Georgian national character. She holds a bowl of wine in one hand to greet those who come as friends and a sword in the other for the nation's enemies.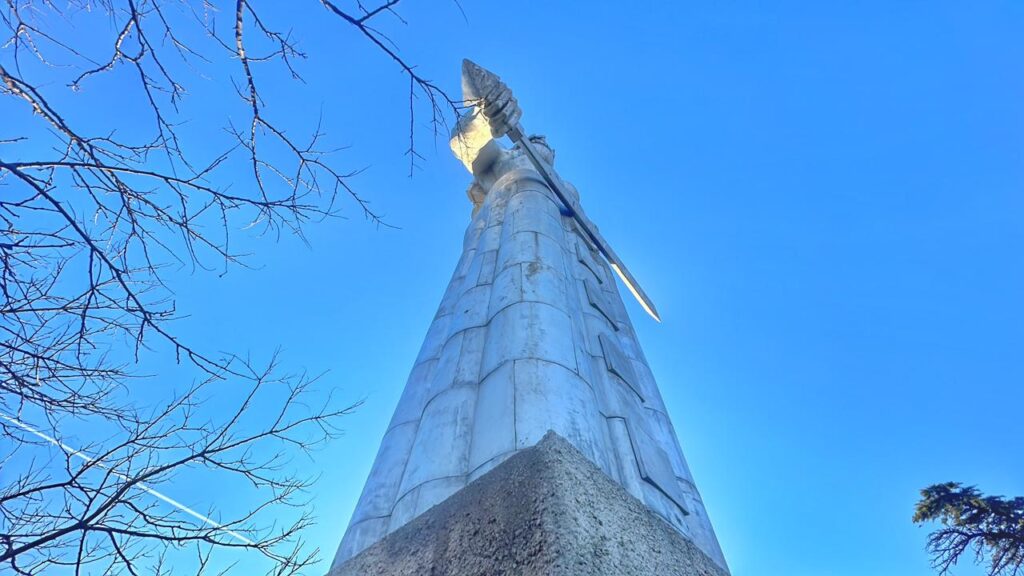 Tbilisi cable car
One of the easiest ways to get to the Mother of Georgia is by taking a Tbilisi cable car from Rike park. The cost for one way ride is 2.5 Georgian Lari and it can be paid only by the Metromoney card. The Metromoney card cost around 2 Georgian Lari and can be purchased at the ticketing office.
Narikala Fortress
Narikala fortress is an ancient fortress dating back to the 4th century and according to legend, it was built by King Vakhtang I Gorgasali. The complex is also home to St Nicholas church. The original St Nicholas church that dated back to the 13th century was destroyed by fire and hence the new church was built in 1996-1997 to replace the old one.
Fortress and church timings: 8 AM to 8 PM everyday.
There are security guards at all times during the day.
Juma Mosque
Built in the 15th century, the Juma mosque at Tbilisi is one of the rare mosques where Sunni and Shia Muslims pray together. The Juma mosque is the only surviving mosque in Tbilisi and is located in the Old town of the city.
Leghvtakhevi waterfall
Who would have thought that Tbilisi is home to a waterfall too, that is located right in the old town? Leghvtakhevi waterfall is 22 metres tall and is right next to the surphur baths area. The name Leghvtakhevi means fig gorge in Georgian language.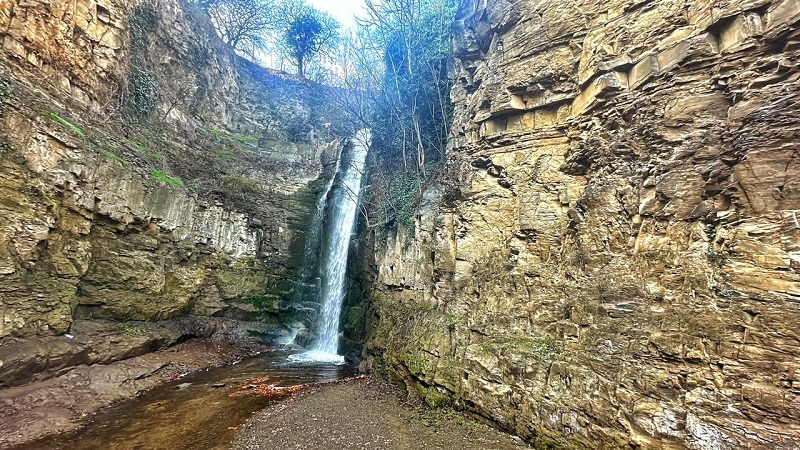 Chreli Abano Spa
As mentioned earlier, Tbilisi is known for the sulphur water and sulphur baths is one of the main things to do in the city. Chreli Abano Spa is located in the old part of Tbilisi and the building is the oldest sulphur baths and spa from ancient times.
Spa timings: 9 AM to 11 PM everyday.
You pay as per the package you opt.
Take change of clothes with you.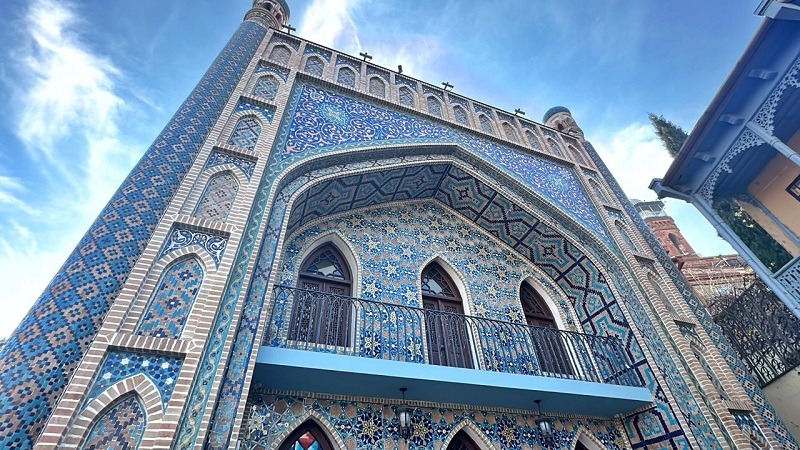 Abanotubani
Famous for its sulphuric baths, Abanotubani is the area in the old town and is characterised by the brick houses. Abanotubani literally means bath district in Georgian language. And Abanotubani is the last stop of Tbilisi walking tour.
Closing Notes
I really enjoyed the Tbilisi walking tour and the landmarks that it passes through. The city of Tbilisi has so much of history and legends associated and it is fascinating to know and see each of these historical landmarks that tell a story.
If you are looking for tours and trips? Then definitely check out Viator.
If you liked this article, do comment, tweet, or share this post.
Follow me on Instagram | Facebook | YouTube | Twitter
Do you have a question? Or want any suggestions, and tips for travels, hikes and scuba dives? Use the Subscription box below to sign-up and get updates by email.
For savings on your travel insurance, check out the Travel Insurance Saver.
PIN for later reference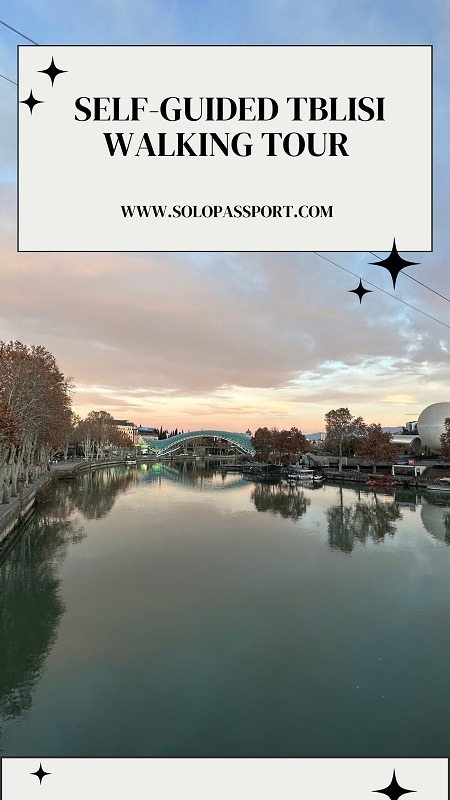 Source link